Sports Pressurized Elastic Knee Brace
Joint and Knee pain got you feeling down? Our 360 Compression Knee Brace is meant to elevate your everyday fitness & well-being. Designed with our customers in mind, whether you're focusing on enhancing your fitness abilities or seeking major relief from joint pain or arthritis, this one for you. The microfiber 3D elastic technology regulates blood circulation and provides extra support & balanced protection for your femur, tibia, and patella regions. 
Studies have shown that your knees, at times, bear 5 times your body weight. Our 360 Compression Knee Brace supports and alleviates pressure put on your knees. Protecting joints is crucial for avoiding long terms health issues like arthritis, bursitis or even dislocations.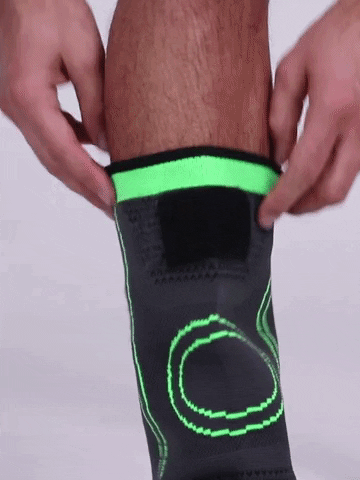 Features:

Three-dimensional weaving technology, high flexibility, good ventilation, wearing a more comfortable fit.
Pressure belt design, adjustable, more fit parts.
Suitable for a variety of fitness exercises.
Prevention or rehabilitation after injury and all kinds of fitness exercise.
Full range of flexibility provides more fit and more comfortable support on the knee.
Keeps the knee warm and relieve the pain of chronic arthritis.
High elasticity provides more comfortable support for the knee.

Material: 32% Spandex / 68% Nylon.

Perfect For: Athletes / "Gym goers", Arthritis / Joint-pain relief seekers, Construction workers (any job requiring heavy lifting), Joggers / Cyclists, Weightlifters / Power-lifters, Swimmers,

Package included:    
1 x Knee Sleeve

NO MORE JOINT PAIN. Buy It Now! 

*If you don't have a positive experience of ANY reason, we offer 30 days guarantee and will do WHATEVER it takes to make sure you are 100% satisfied with your purchase. We have 24 hours email support, please do not hesitate to contact us if you need any assistance.